CASE STUDY 5 - AD250 WIRELESS
DUPLEX COMMUNICATIONS - ACOUSTIC TELEMETRY NETWORK
CLIENT
European O&G Operator - France
WELL TYPE
Deviated CSG Well – PCP Artificial Lift System
TECHNOLOGY SOLUTION
AD250 Wireless Downhole Gauge System
CHALLENGE
A 1-Downhole Gauge, 4-Repeater AD250 Wireless Downhole Gauge System was deployed and commissioned in a 1500m well, deviated at 800m to an angle of 50degrees. The deployment was run to instrument a PCP completion on a CSG well and used as an opportunity to test the communication chain between a large number of repeaters, and to cross-check this with individual gauge transmission capability.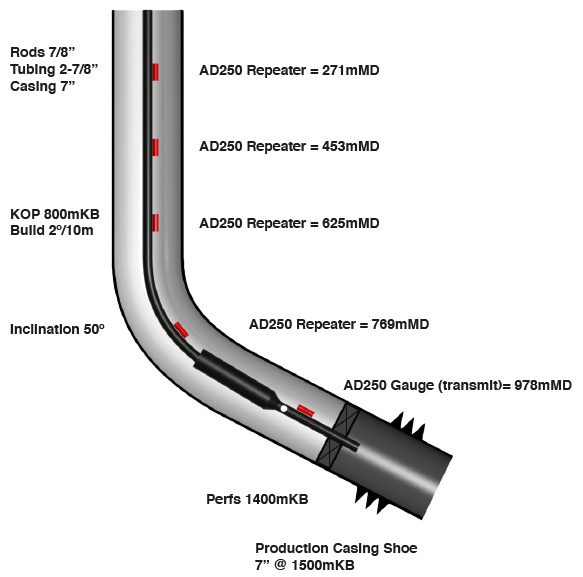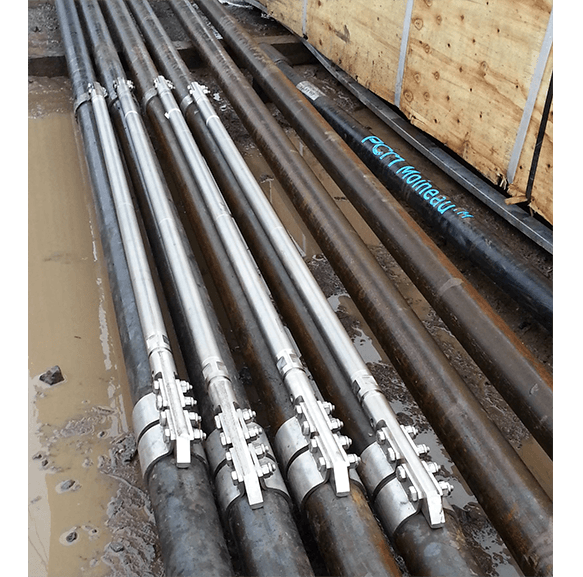 OUTCOME
AD250 Wireless Downhole Gauges and Repeaters were fixed to 2-7/8" tubing by our bespoke clamps, each gauge and repeater taking about 4 minutes to mount. No loss in rig time was experienced as these were pre-installed on tubing, turned on ahead of run-time, and picked up in order as the tubing was run.
Clear signals were received at surface not only via the 'communication chain' from the last repeater but also as expected from each of the wireless downhole gauges and repeaters directly allowing calculation of the maximum possible transmission ranges (spacing) for gauges and repeaters.
SOLUTION
The trial demonstrated that the repeater 'communication chain' worked as expected allowing the technology to be deployed to an unlimited theoretical depth.

Gauge & Repeater Signal Strength Survey