B

ARRACUDA

TM
HEX-RETAINER
TM
Cost-effective technology for well isolation or well abandonment

Provides a reliable platform for cement plugs or melted metal alloy plugs

Deployed via slickline and installed by an electro-mechanical setting tool

Small OD (2.13") runs through 2-7/8" No-Go nipple to set in up to 9-5/8" casing
OVERVIEW
The patented Barracuda™ HEX-Retainer™ is a high expansion basket retainer designed for well isolation or well abandonment. It can be installed anywhere in tubing or casing, providing an anchoring platform for sand, proppant, cement plugs and melted metal alloy plugs such as Bismuth (BiSn). The 2-7/8" model can be run through a 2-7/8″ No-Go nipple profile and has an expansion capability of up to 9-5/8″ casing.
The HEX-Retainer is mounted on our HEX-Hanger™ and can be quickly installed via a single slickline run using the rechargeable battery-powered Electro-SET™ (electro-mechanical setting tool), which is activated by a pre-programmed onboard timer. In the case of a metal-alloy plug, the SonicGauge™ Plug Verification System can be installed on the HEX-Retainer toolstring to measure and transmit pressure data to surface. This data will assure the integrity of the barrier over a multi-year period.
INSTALLATION
The Electro-SET-HEX-Retainer toolstring is run-in-hole via slickline to depth.
An onboard timer activates the Electro-SET, expanding the HEX-Retainer grippers onto the tubing/casing wall via a soft-set pre-compression mechanism which provides high force distribution and engagement.
The Electro-SET is disengaged from the installed HEX-Retainer via a shear-pin mechanism which simultaneously releases the basket petals, allowing the basket to expand and seat against the tubing wall, sealing the annular space.
The Electro-SET is then pulled-out-of-hole and the onboard setting log is downloaded to confirm successful installation.
The HEX-Retainer can immediately be used as an anchoring platform for a cement plug or a melted metal alloy plug such as Bismuth (BiSn).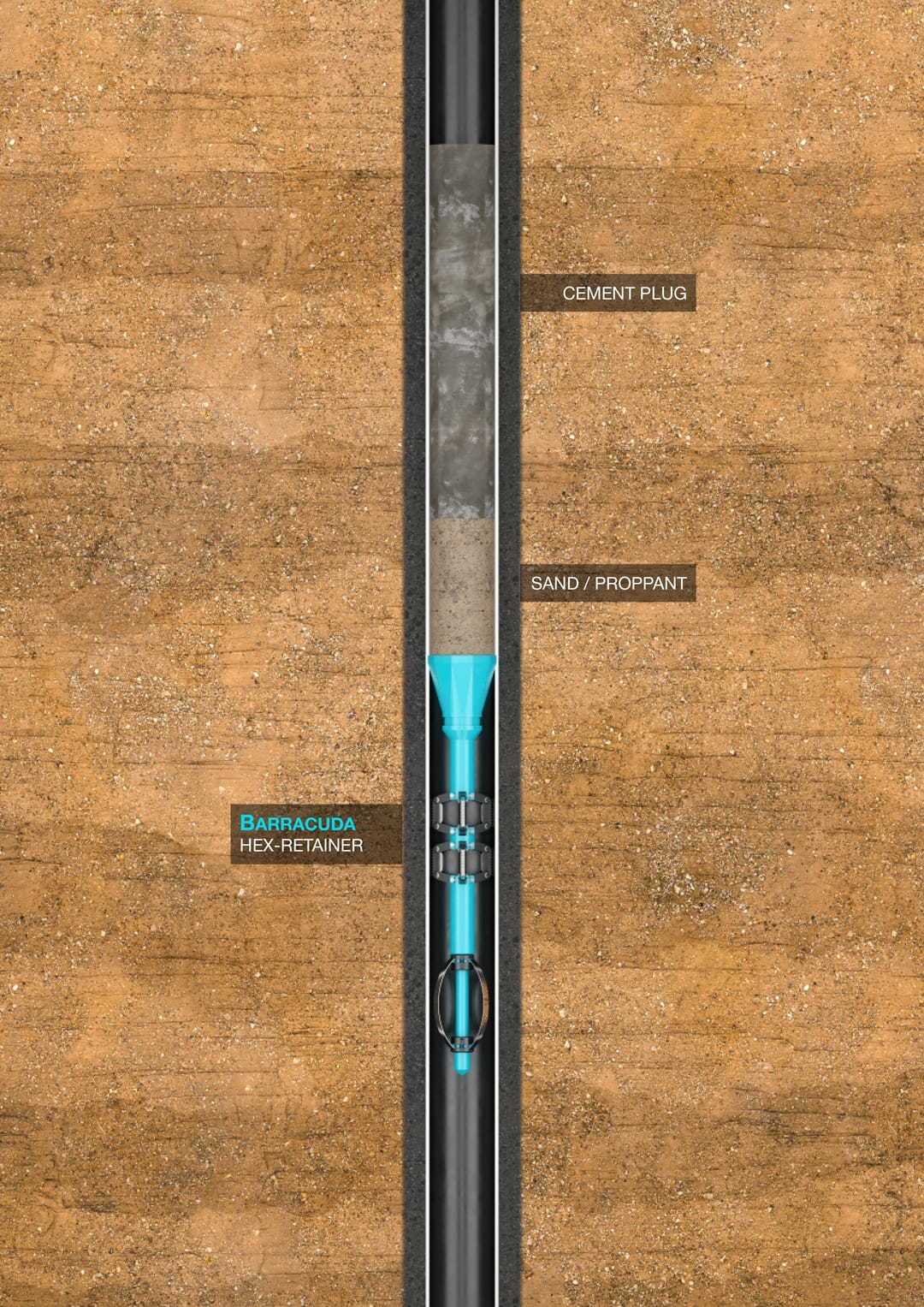 BARRACUDA™ HEX-RETAINER™
High Expansion Retainer Type
Radially Set via Electro-SET™
Material
Super Duplex
External Diameter
33.4mm (1.31")
Length
650 – 950mm (25.6 – 37.4")
Weight
5kg (Hand Carry)
Tubing/Casing Size
2-7/8" – 9-5/8"
Pressure Rating (Setting Tool)
10,000psi
Temperature Rating (Setting Tool)
125°C (257°F) | 150°C (302°F)
CONTACT US
Have a question or want to book a demo?
Our team of experts are on hand to help.