S

ONIC

G

AUGE

TM
WIRELESS MONITORING SYSTEM
150+ years of accumulated downhole monitoring time globally (300+ installations)

Leading provider of wireless data acquisition for subsurface energy storage and O&G wells

Can be rapidly installed during well completion or retrofit after well completion via slickline

Fully wireless: no wellhead penetrations, downhole cables, or connectors required
OVERVIEW
The patent-pending SonicGauge™ Wireless Monitoring System is a two-way (duplex) acoustic telemetry system that measures and wirelessly transmits wellbore pressure, temperature and vibration in real-time, a mandatory requirement for good reservoir management in subsurface energy storage and oil & gas wells.
Our wireless downhole gauge systems are ideal for providing real-time downhole data during production, injection and monitoring phases of well operation. There is no depth limitation for the wireless data acquisition system, as SonicRepeater stations can be used to boost the acoustic data packets to surface. The wireless downhole tools can be mounted on tubing or retrofitted by slickline through tubing on our proprietary Barracuda™ HEX-Hanger™ (high expansion gauge hanger).
APPLICATIONS
Frac & Gravel Pack Monitoring (Coming Soon)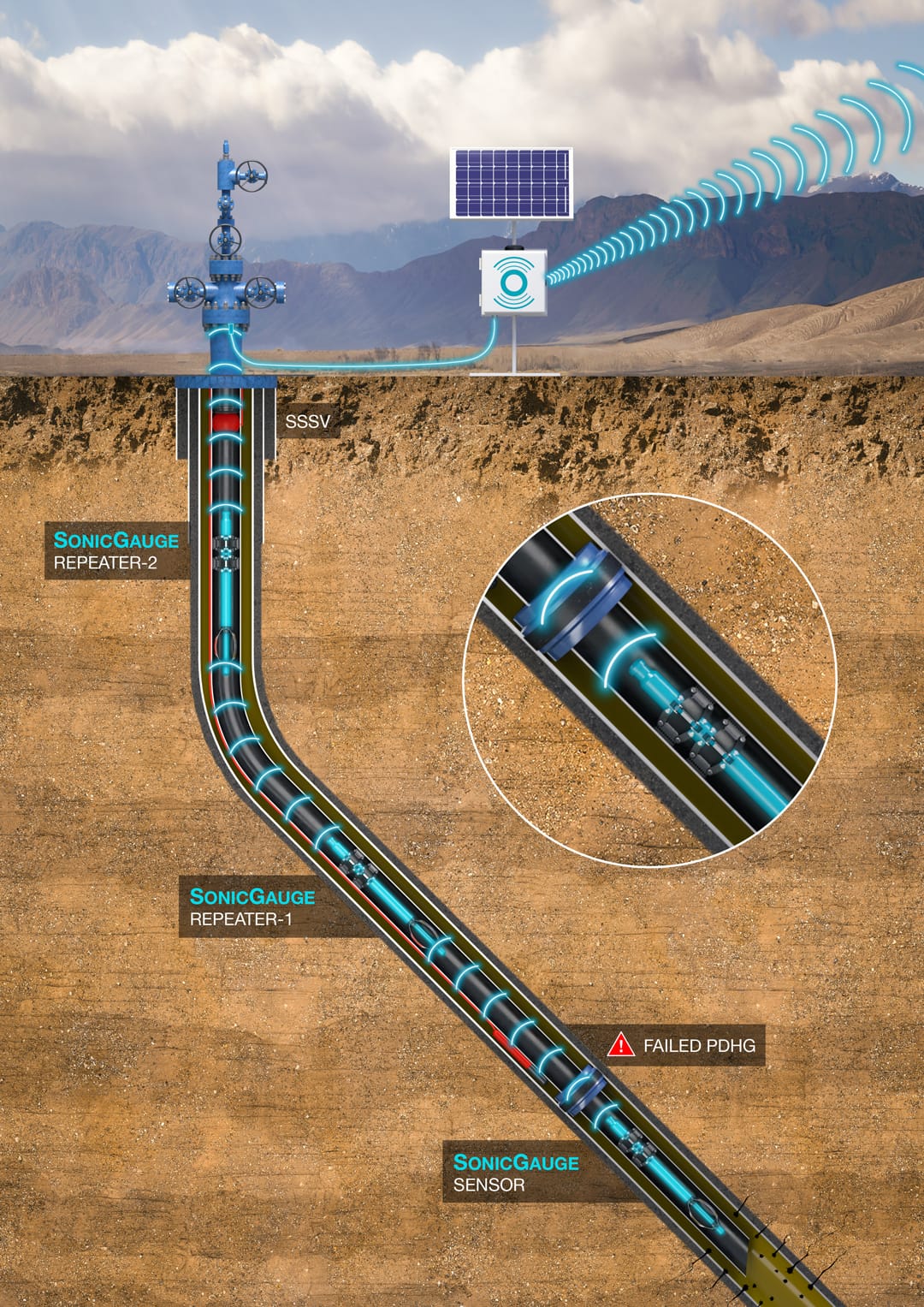 ---
HIGH EXPANSION GAUGE HANGER (RETROFIT)
Our patented
Barracuda™ HEX-Hanger™
is a high expansion gauge hanger that can be installed anywhere in tubing or casing. The technology was developed as a slickline retrofit deployment option for our SonicGauge™ System in wells with no gauges or with a failed permanent downhole cabled gauge (PDHG).
EXTERNAL GAUGE CARRIER
The external gauge carrier provides a high degree of protection to both the SonicGauge™ sensors and repeaters. This installation option is generally used in drill stem testing, frac pack, and gravel pack applications. For permanent monitoring installations, we would recommend a more compact welded pup joint. The carrier and the pup-joint can be ported to annulus or tubing as required.
TUBING CLAMPS
External clamps are used to deploy SonicGauge™ sensors monitoring the annulus and for SonicRepeater stations used to boost the acoustic data packets to the surface. The SonicGauge and SonicRepeaters are clamped to the tubing at pre-determined intervals along the string. Installation takes minutes and can be carried out offline.
SUSPENDED BELOW PLUGS
The SonicGauge™ can be run directly below a bridge plug to monitor and transmit real time pressures at the plug setting depth for barrier verification purposes. Please view the
SonicGauge™ Plug Verification System
for more information relating to this application.
SIDE POCKET MANDREL
For operators requiring real-time data at surface but requiring a completely clear and accessible wellbore, we have developed a bespoke latch to deploy our SonicGauge™ in a side pocket mandrel (SPM). The SonicGauge is run on slickline with a traditional kick-over tool and set in a custom length SPM. Individual tools may be retrieved as required for battery change and on-board data download.
---
SOLAR POWER MODULE
Fully independent and compact system using solar energy to power the SonicGauge™ Data Logger (SDL).
MODBUS / SCADA
Downhole data can be routed to your desktop via a Modbus interface that connects to your remote terminal unit (RTU) at well site, providing a complete 'Downhole to Desktop' solution.
3G/4G-WIFI MODULE
This module can be connected to an operator's network directly or via a secure VPN tunnel. For smaller clients, the VPN server can be hosted by Acoustic Data as a cloud solution. The SonicGauge™ Data Logger (SDL) is enabled to receive over-the-air (OTA) firmware updates and transmit real-time downhole data without the need for a remote terminal unit or physical intervention.
EXD ENCLOSURE
For hazardous zone deployments, we offer a Zone 1 rated EXD Enclosure and Solar Power Module solution.
ANTI-THEFT / VANDAL MODULE
For locations where theft or vandalism of surface equipment is a concern, we offer secure armoured vaults or secure subterranean modules for installation at the wellsite. Please enquire for tailoring a system to your requirements.
SONICGAUGE™ WIRELESS MONITORING SYSTEM
Real-Time Surface Read Out (SRO)
Yes
Real-Time Data Transmission Speed
30 Seconds (Max. Per SonicRepeater)
Data Stored to Onboard Memory
1 Second (Max.)
Communication Type
Duplex via SonicSync™ (Two Way)
Transmission Distance
Unlimited with SonicRepeater Stations
Downhole Sensor
Piezo | Quartz
Multi-Sensor Configuration
Optional
Temperature Rating (Max.)
150°C (302°F)
Pressure Rating Options (Max.)
10,000 | 15,000 | 25,000psi
Length
1,300 – 1,800mm (51.2" - 70.9")
Diameter
33.4mm (1.31")
Material
Super Duplex | Inconel
Battery Life
Up to 8 Years
CONTACT US
Have a question or want to book a demo?
Our team of experts are on hand to help.