S

ONIC

S

YNC

TM
COMMAND+CONTROL PLATFORM
Wireless telemetry network for remote activation and control of downhole equipment

Can be integrated with third-party tools such as valves, samplers and firing heads

Interface with the SonicGauge™ to change data acquisition schedules and poll historical downhole data saved to onboard memory
OVERVIEW
The patent-pending SonicSync™ Command+Control Platform is a subsurface acoustic telemetry system that uses two-way (duplex) communication to interface with downhole equipment. At surface, a command tool driven by a laptop interface is temporarily attached to a production wellhead or drill pipe to send acoustic commands downhole to activate, control or check the status and diagnostics of downhole equipment. Dependent on depth, wireless SonicRepeater stations are deployed along the tubing to boost the range of the system—effectively providing an unlimited transmission distance.
SONICGAUGE INTEGRATION
The SonicSync can send the following commands to the SonicGauge:
Change data rate schedule to capture events such as a pressure build-up (PBU)
Poll the onboard memory for historical data download
Optimise power output for long-term battery efficiency
Optimise acoustic output and noise filters post-installation
BESPOKE INTEGRATION
Upon request, the SonicSync system can be integrated with third-party equipment such as:
Electronic Firing Heads (TCP)
Downhole Circulating Valves
Fluid Samplers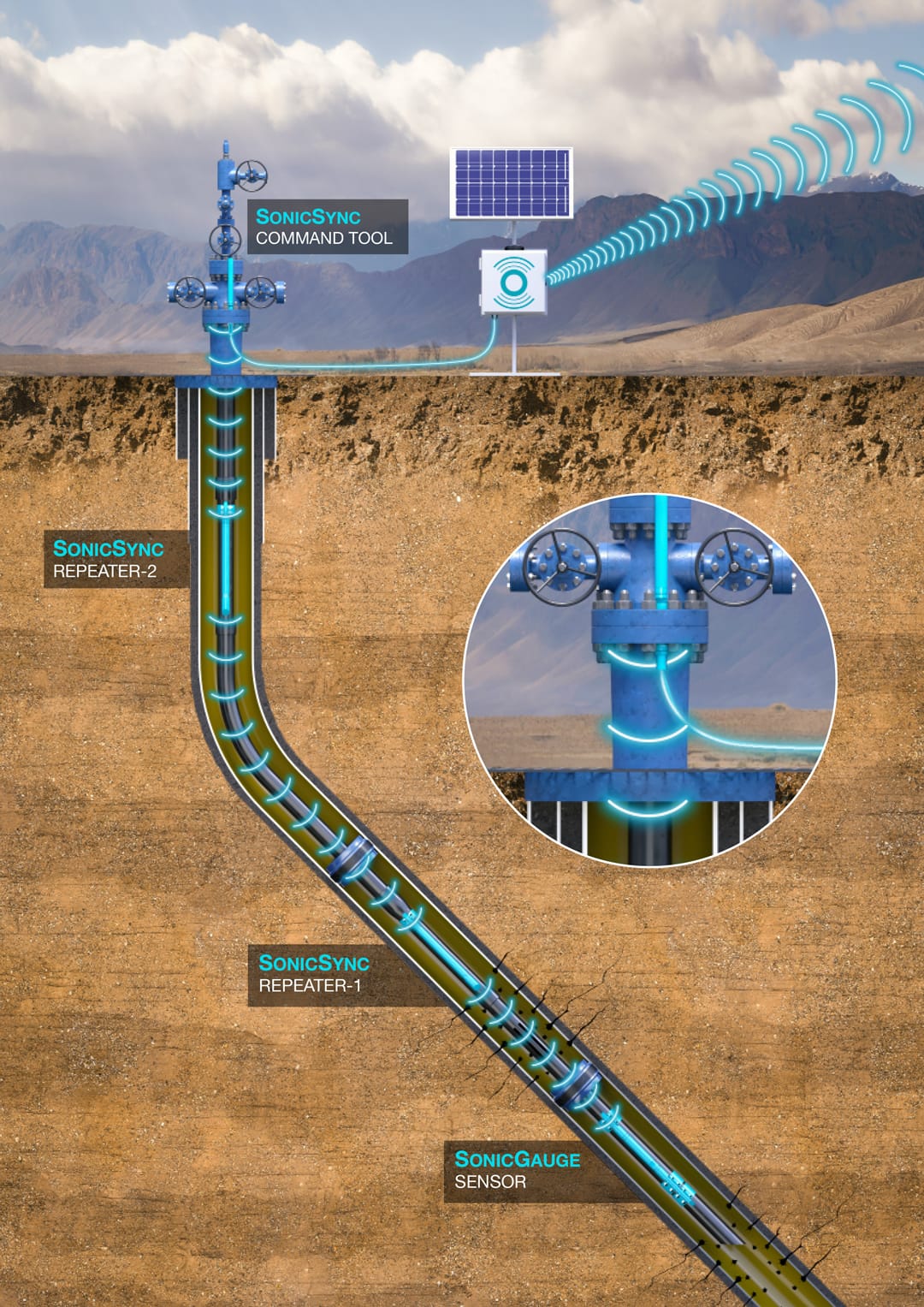 SONICSYNC™ COMMAND+CONTROL PLATFORM
Wellhead Unit (Magnetic Attachment)
IP67, 1650x50x50mm
Laptop PC Interface Unit
IP67, 200x50x50mm
Telemetry Type
Acoustic
Communication Type
Duplex (Two Way)
Transmission Distance
Unlimited with SonicRepeater Stations
Temperature Rating (Max.)
150°C (302°F)
Pressure Rating Options (Max.)
10,000 | 15,000 | 25,000psi
Length
1,300 –1,800mm (51.2 - 70.9")
Diameter
33.4mm (1.31")
Material
Super Duplex | Inconel
Battery Life
Up to 8 Years
Third-Party Tool Interface
Information Upon Request
CONTACT US
Have a question or want to book a demo?
Our team of experts are on hand to help.