CASE STUDY 6 - AD250 WIRELESS
ACOUSTIC TELEMETRY DEPTH TRIALS
CLIENT
Ukrainian O&G Operator
WELL TYPE
Observation Well
TECHNOLOGY SOLUTION
AD250 Wireless Downhole Gauge System
CHALLENGE
Three Single AD250 Wireless Downhole Gauges were mounted 18m apart on the outside of 3-1/2" drill pipe on screwed mounts ported to the annulus and run in hole to 3500m with stops for data measurement at 150, 300, 600, 900, 1500, 2000, 2500, 3000, 3500 metres. The objective was to verify the maximum transmission range of the gauges.
The wireless downhole gauges were transmitting on two different frequencies and programmed to transmit data at 4-minute intervals as they were lowered into the hole to facilitate transmission range checking. The well was not circulated during the trial. The trial was performed on a drilling rig so the receiving sensor was magnetically attached to the BOP.
Maximum downhole temperature was 83degC and over an 85-hour test period 1360 separate Pressure and Temperature readings were received.
OUTCOME
Analysis of the signals validated the theoretical signal loss per metre of pipe (dB/metre) suggested by theory. Excellent signal strengths and good signal/noise ratio was observed with data received at surface from to 2500m. Given the linearity of signal loss/metre it was surprising that signals were not received from 3000m. The BOP attenuated signal more than a permanent wellhead effectively reducing free-pipe transmission range by 500m.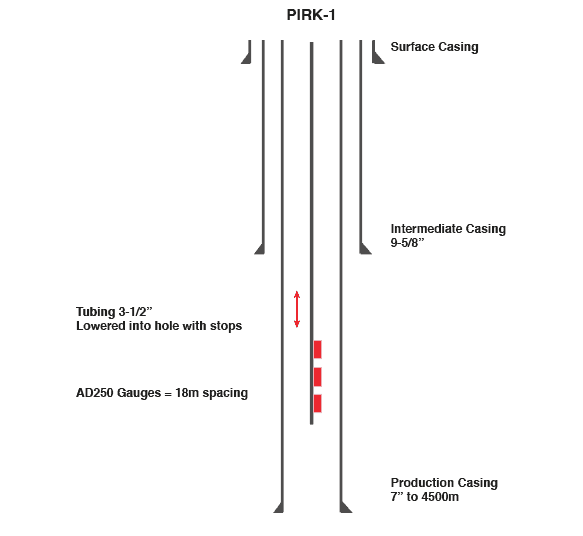 SOLUTION
The trial validated that a single wireless downhole gauge can transmit data to surface from a depth of 2500m with no repeater, providing operators with an extremely economical acoustic telemetry solution compared to that offered by service companies today.
P&T DATA vs DEPTH
+ EXTRAPOLATION