CHALLENGE
Two AD250 Wireless Systems were installed in Australian CSG wells to measure real-time wellbore data at hourly intervals over a 10-month period.
OUTCOME
Two 'C' cell lithium batteries powered each gauge, and the units operated without fault for their entire 10-month deployment as summarized in the table below. The hourly data transmission rate captured early well start-up parameters. The number of packets sent equates to 5-years of operation at 4 data transmissions per day, which is the rate we recommend for long-term production monitoring.
| WELL | DAYS SERVICE | ACOUSTIC PACKETS |
| --- | --- | --- |
| CSG-1 | 311 | SENT 7560 |
| CSG-2 | 315 | SENT 7560 |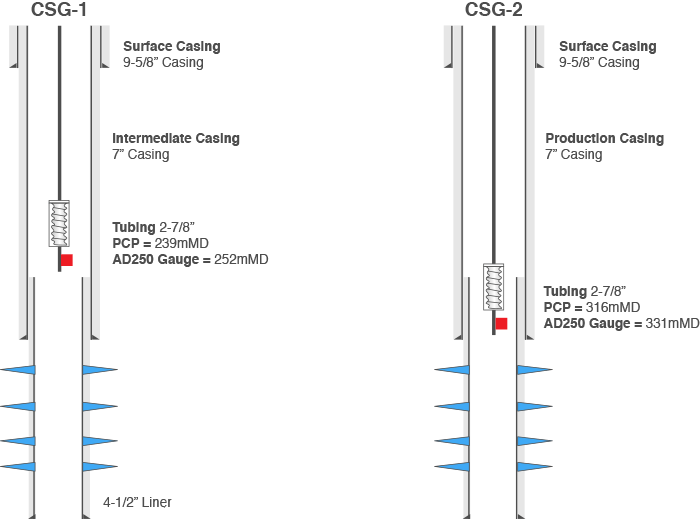 SOLUTION
The frequency of data acquisition allowed the operator to accurately monitor the 'real' dynamic fluid head over the PCP during the dewatering phase. The graph below compares the actual wellbore pressure with the 'scattered' wellbore pressures estimated by echo-meter shots.
The AD250 Wireless System is ideal to integrate with PCP pump off control systems.
After dewatering, the client was able to routinely perform and monitor wellbore pressure buildups in real time.
These wells are good examples of how relatively low data rates can deliver excellent data for engineering analysis.