The North Sea is a mature play experiencing increasing suspension and decommissioning activity and the governments of the countries that share it are mindful of their environmental obligations and scrutiny of abandoned wells is more likely to be tightened over time than loosened.
Well Integrity standards, such as Norsok D-010 make frequent references to the requirement for monitoring the integrity of barriers such as during well suspension; barrier monitoring being an integral part of the risk mitigation strategy for potentially hazardous activities such as the removal or replacement of Christmas Trees.
It is therefore likely that downhole monitoring of well integrity over time will become more desirable and increasingly more important to operators looking at safe and secure suspension or P&A activities on their assets. However, it is not easy to do well. Many methods for assessing the integrity of a barrier, such as a pressure test, only offer a short term and temporary snapshot of the element's performance. This is useful data of course, but no guarantee of, or insight into, the long-term longevity of the barrier.
New Challenges, New Technologies
According to OGUK's 2019 Decommissioning Insights Report, the expected (pre-COVID-19) average decommissioning cost per well is £3.43m for platform wells, £8.38m for subsea wells and £4.59m for exploration and appraisal (E&A) wells. How are operators able to reconcile their ongoing well integrity obligations with an uncertain commercial environment? The same way they always have in difficult times; with innovation. Lower-cost or more efficient technology will come to the fore.
If we look outside of the industry for a moment, we can see paradigm shifts in the use of technology for communication (mass take up of Zoom, for example) and the demise of many high street retailers in favour of online alternatives. Within the field of downhole data acquisition, we have seen migration away from wireline deployment as the preferred means of deployment to both slickline and fibre-optic technologies, driven by both cost and the emergence of disruptive service offerings.
Out of this crisis, we will see new cost-effective solutions emerge. Indeed, PwC has declared that: "innovation is king for longevity – [and that it is] time to double down on digital technologies and new ways of working" for the North Sea oil and gas industry as it responds to COVID-19.
One such solution is the SonicGauge™ Plug Verification System (PVS) — a wireless downhole gauge that can be used for both short- and long-term data acquisition below, for example, retrievable bridge plugs (RBP) or new-generation metal-alloy plug technologies. When first introduced to the industry, acoustic telemetry systems were a high-cost solution designed for E&A or optimising the performance of wells in production. For this reason, the wireless technology was not viewed as commercially viable in non-revenue generating activities such as Abandonment & Decommissioning (ABEX). However, the SonicGauge™ PVS was specifically developed for these cost-sensitive applications and the economic reality that comes with them.
For clear validation of the commercial benefits of innovation, we can look to Repsol Sinopec Resources UK's (RSRUK) Beatrice platform, which was de-manned in December 2018 and shifted to not normally attended (NNA) status. Though not fully decommissioned, many similar challenges apply, and according to OGUK's Decommissioning Insights: "the integration and application of multiple new technologies and digitalisation elements enabled RSRUK to reduce post-CoP running costs significantly, whilst ensuring the safety of the asset in this mode."
In fact, if we return to the same report's expected decommissioning costs, we can see a steady fall for two of the three well types each year — a sure sign that the industry is steadily honing its technologies and processes.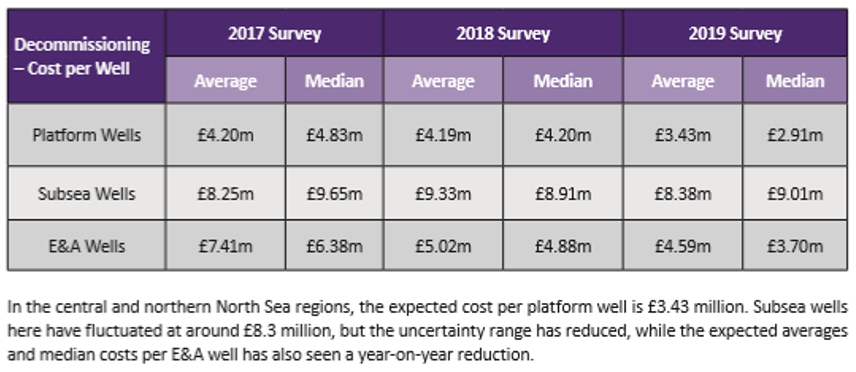 It stands to reason then, that we can expect the industry to invest in technologies that will lower the cost of P&A and suspension activity. A promising avenue to do so seems to be exploring alternative materials to concrete for well barriers such as metal-alloy-based plugs, for example.
However, with any new technology comes risk. Without a track record of success, future performance is theoretical. Of course, if we wait for a track record to deploy a technology, no such track record can be created — a chicken and egg scenario. We must push forward with new efficient technologies, but we must also keep a close eye on them to ensure they are delivering the expected performance. Which brings us back to the importance of monitoring and the need for cost-effective solutions.
Efficient Reassurance
Long-term well integrity monitoring for suspended and abandoned wells is therefore an essential technology for today's North Sea. It is the only way for operators to fulfil their long-term stewardship duties towards their wells, and essential for ensuring that the new barrier solutions designed to lower decommissioning costs adequately safeguard well integrity.
Once again, the issues of cost and safety arise. How can monitoring be done on an ongoing basis while minimising risk and expense?
In response to the COVID-19 crisis, one of the first areas of focus that Acoustic Data addressed was the elimination of the need to deploy personnel offshore to support basic operations related to the SonicGauge™ PVS. Our remote support model combines online training, simplification of onsite procedures, and ruggedising technologies to enable their deployment by third-party personnel, such as slickline crews.
From a technological and commercial perspective, a downhole barrier verification system that can provide data in real-time via surface-read-out (SRO), or a periodic data download by flyby, allows the operator to significantly extend the intervals between required manual inspection or intervention, dramatically cutting costs.
Acoustic Data's field-proven SonicGauge™ PVS provides this functionality in a number of ways, from providing real time differential pressure measurements across shallow-set plugs, to being integrated into existing downhole components to allow continuous surveillance of downhole barriers — all achieved cost effectively.
Ultimately, the North Sea oil and gas industry needs to find innovative new ways to meet its stewardship obligations whilst remaining within the decommissioning budget. As in previous downturns, it will be new technologies (and new applications of existing technologies) which will make this possible.
View Article: Platform O&G