WELL ANALYST
Downhole event monitor
PCP, SRP, ESP Failure Prediction (Monthly Service)

Well Stimulation Event Confirmation (Daily Service)

Exceptional clarity of surface and downhole events

High-resolution play and replay of downhole events

Easy live and post-job processing of information

Provides accurate prediction of artificial lift failure, and confirmation of well stimulation procedures
The Well Analyst Downhole Event Monitor provides operators with the ultimate wellbore noise and event analysis package. Based on our proprietary AD250 acoustic well technology, Well Analyst observes, amplifies, analyses, and confirms downhole events during well production on artificial lift wells, and during well stimulation procedures such as fracture treatments and perforation.
The Well Analyst continuously monitors, records, filters, and interprets well noise in real time, which is sharply displayed in our custom data interface. It displays an audible and visual sound track side-by-side with a surface pressure trace to correlate significant downhole events in real-time over many days. At any time, traces can be stopped, re-wound, marked, annotated, auto scaled, custom scaled, and then return to the real time trace. Data and annotations are saved for future analysis, and can be exported for off-site viewing.
During fracture stimulation treatments, Well Analyst provides positive confirmation of frac ball launch and seating, movement of sliding sleeves, and changes of fluid flow noise indicating frac fluid diversion or breakthroughs. It provides positive confirmation of, and the exact time when perforation guns have been fired downhole, particularly useful if phased perforating timing is used.
Our unique noise analysis software can be used to predict failure of PCP, SRP, and ESP artificial lift systems by filtering, identifying, and interpreting relevant downhole noise data relating to imminent rod failure or ESP burnout. This allows operators to make an informed decision on when to pull the completion to avoid a work-over or a fishing job after a catastrophic failure.
Deployment of the AD250 Wireless Acoustic Gauge System downhole with the Well Analyst at surface provides a complete picture of wellbore events in real-time.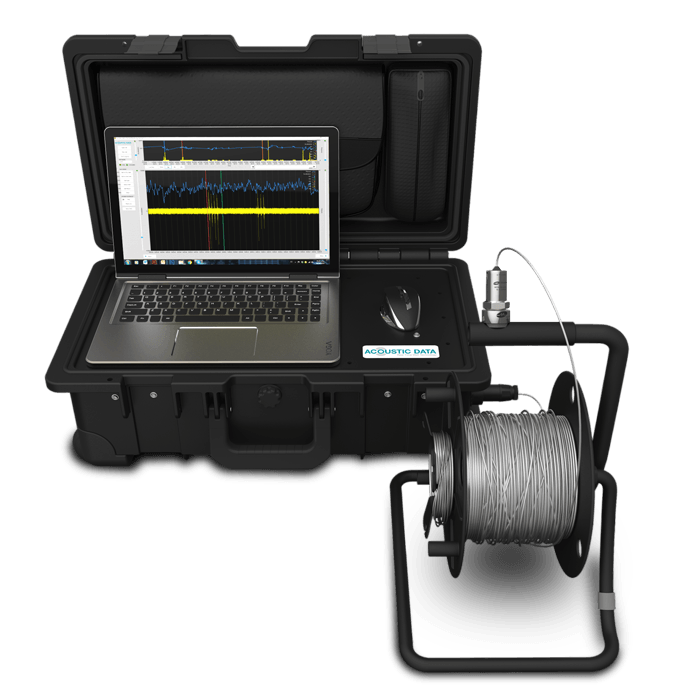 | | WELL NOISE SENSOR |
| --- | --- |
| Type | Accelerometer, Monitran MTN/1100IC |
| Height | 41mm |
| Diameter | 25mm |
| Hazardous Zone Rating | ATEX & IECEx Certified Group II Intrinsically Safe Accelerometer to Ex ia IIC T6 |
| Cabling | Over braided twin core screened ETFE cable |
| Cable Length | 50m (Extensions available on request) |
| Mounting | Magnetic Mount MM001 |
| Temperature Rating | T6 (-55°C ≤ Ta ≤ +65°C) |
| IP Rating | IP67 |
| | WELL ANALYST PACKAGE |
| --- | --- |
| Width | 292mm |
| Length | 520mm |
| Depth | 183mm |
| Weight | 10kg |
| Display | Laptop PC (14" Lenovo i7 256GB SSD Default) |
| PC Data Link | Ethernet |
| Hazardous Zone Rating | None |
| Temperature Rating | -20 to 60°C |
| IP Rating | IP67 when Pelicase is sealed – All connections IP67 |
| Power Supply | 9-36Vdc |
Clip our intrinsically safe ATEX & IECEx Certified Group II (Class 1 Division 1 hazardous area rated) noise pickup to the tubing head flange with a simple magnetic mount; roll out the over-braided sensor cable to the well site cabin, and plug into the jack on the Well Analyst Data Acquisition (DAQ) unit.
Plug a lead from your 4-20mA pressure sensor into the jack on the DAQ unit.
Connect a 9-36V power supply to the DAQ unit, power up the unit and logging starts automatically.
The laptop which analyses and displays the data, conveniently communicates with the DAQ unit by ethernet allowing the DAQ unit to be placed out of the way and the laptop on your desktop while you are analyzing events.
CASE STUDIES
CONTACT US FOR MORE INFORMATION
CASE STUDY 1
---
The graph presents averaged noise amplitude data together with the max and min torque readings observed at surface during a few minutes every hour. Well Analyst downhole noise data correlated very well with rod string torque and four distinct Noise / Torque peaks were observed before the rod string broke.
CASE STUDY 2
---
During a Well Analyst deployment, the operator was able to identify a missed ball launch at surface that would have resulted in a sleeve not shifting, and a frac not being diverted as required. They were able to reset the frac equipment and complete a successful frac after the fault had been flagged by the Well Analyst.
---