S

ONIC

G

AUGE

TM

PVS
PLUG VERIFICATION SYSTEM
150+ years of accumulated downhole monitoring time globally (300+ installations)

Can provide surface-read-out (SRO) of downhole data without intervention

Deployed on the bottom of plug/barrier with no additional rig time (single run)

Fully wireless: no wellhead penetrations, downhole cables, or connectors required
OVERVIEW
The SonicGauge™ Plug Verification System (SG-PVS) is a two-way (duplex) acoustic telemetry system that measures and wirelessly transmits wellbore pressure to surface in real-time to verify the integrity of a downhole barrier.
When conducting well-plugging operations, the long-term pressure integrity of the barrier is critical. Typically, the barrier is inflow tested from below, or pressure is applied from above to ensure the plug is holding pressure. However, these tests are carried out shortly after the plug is deployed, and as such, do not offer ongoing assurance of barrier integrity.
The SonicGauge PVS can be deployed in conjunction with mechanical plugs or metal barriers to monitor both the initial pressure test as well as providing ongoing pressure measurement to confirm continued well isolation for up to 8 years.
APPLICATIONS
Continuous Mechanical Barrier Verification Monitoring
Long-Term Well Suspension Monitoring
Pre-Abandonment Well Plugging Integrity Monitoring
Temporary Zonal Isolation Monitoring
Shallow or Deep-Set Monitoring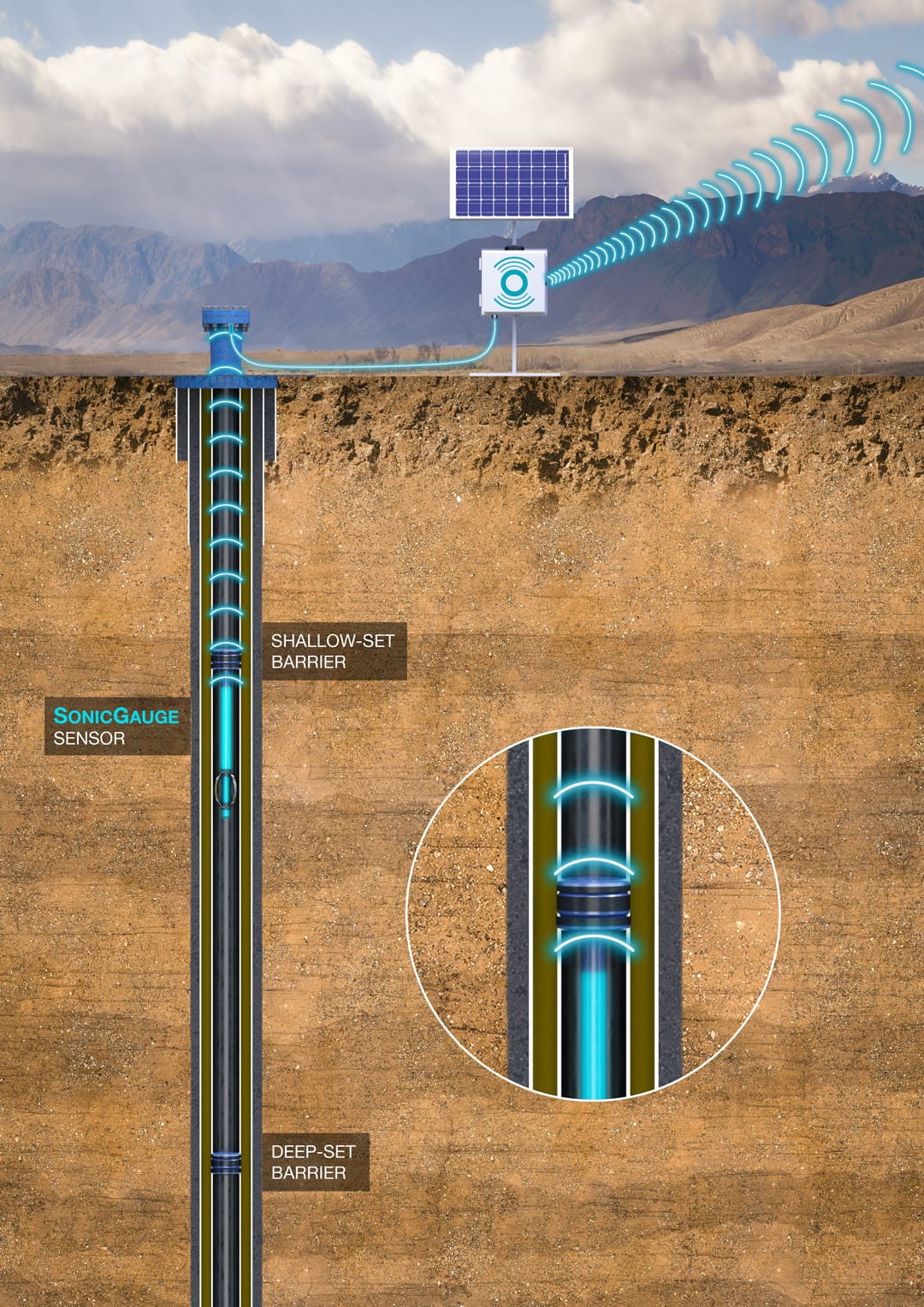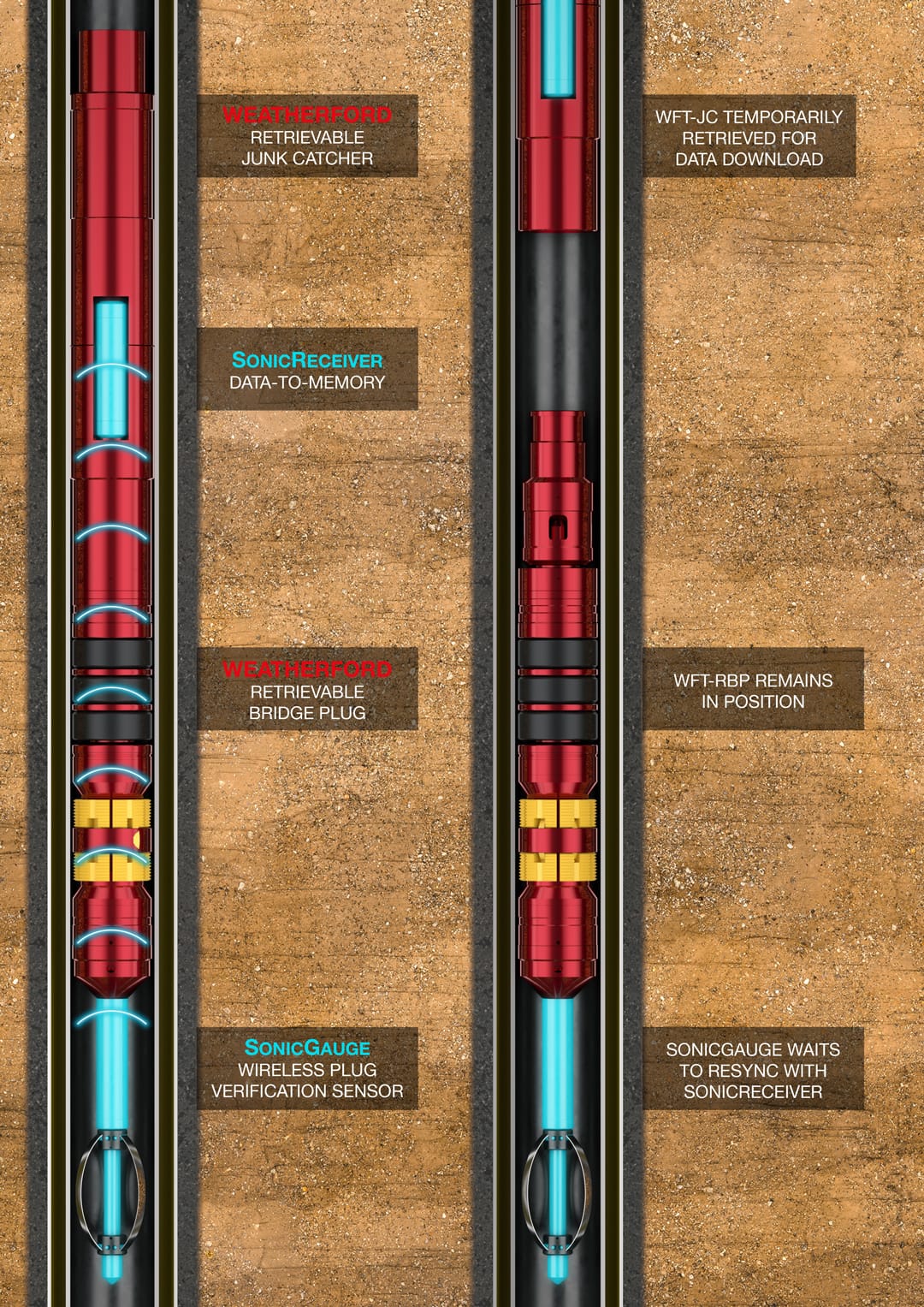 INTEGRATION WITH
THIRD-PARTY PLUGS
The SonicGauge™ Plug Verification System (SG-PVS) has been integrated with the Weatherford Retrievable Bridge Plug (RBP). Verification is achieved by the SonicGauge located below the plug acquiring and transmitting pressure data to a SonicReceiver located within the Junk Catcher assembly above the plug. The SonicReceiver logs the SonicGauge data to onboard memory as well as its own data from above the plug. This data is then transmitted uphole via a SonicRepeater network for real-time surface readout (SRO).
The downhole data can be periodically downloaded upon retrieval of the Junk Catcher and SonicReceiver to surface. Additionally, the SonicSonde™ can be integrated into the WFT-RBP Setting Tool to gather data from the SonicGauge and SonicReceiver during setting and testing operations.
View: Weatherford Retrievable Bridge Plug
INSTALLATION
A SonicGauge is attached to a shock absorber on the bottom of the Weatherford Retrievable Bridge Plug (WFT-RBP).
A SonicReceiver which receives data from the SonicGauge is embedded in the Weatherford Junk Catcher (WFT-JC) above the WFT-RBP.
The SonicGauge measures pressure below the plug and transmits it across the plug to the SonicReceiver, which saves the data to onboard memory. This data is then transmitted uphole via a SonicRepeater network for real-time surface readout (SRO).
If full wellbore access must be retained, the WFT-JC is retrieved to surface on slickline at intervals to download the pressure data from under the plug from the SonicReceiver.
---
SOLAR POWER MODULE
Fully independent and compact system using solar energy to power the SonicGauge™ Data Logger (SDL).
MODBUS / SCADA
Downhole data can be routed to your desktop via a Modbus interface that connects to your remote terminal unit (RTU) at wellsite, providing a complete 'Downhole to Desktop' solution.
3G/4G-WIFI MODULE
This module can be connected to an operator's network directly or via a secure VPN tunnel. For smaller clients, the VPN server can be hosted by Acoustic Data as a cloud solution. The SonicGauge™ Data Logger (SDL) is enabled to receive over-the-air (OTA) firmware updates and transmit real-time downhole data without the need for a remote terminal unit or physical intervention.
EXD ENCLOSURE
For hazardous zone deployments, we offer a Zone 1 rated EXD Enclosure and Solar Power Module solution.
ANTI-THEFT / VANDAL MODULE
For locations where theft or vandalism of surface equipment is a concern, we offer secure armoured vaults or secure subterranean modules for installation at the wellsite. Please enquire for tailoring a system to your requirements.
SONICGAUGE™ PLUG VERIFICATION SYSTEM
Real-Time Surface Read Out (SRO)
Yes
Real-Time Data Transmission Speed
30 Seconds (Max.)
Communication Type
Duplex via SonicSync™ (Two Way)
Transmission Distance
Unlimited with SonicRepeater Stations
Downhole Sensor
Piezo | Quartz
Multi-Sensor Configuration
Above & Below Barrier
Temperature Rating (Max.)
150°C (302°F)
Pressure Rating Options (Max.)
10,000 | 15,000 | 25,000psi
Length
1,300 – 1,800mm (51.2 – 70.9")
Diameter
33.4mm (1.31")
Material
Super Duplex | Inconel
Battery Life
Up to 8 Years
CONTACT US
Have a question or want to book a demo?
Our team of experts are on hand to help.