CASE STUDY 3 - AD250 WIRELESS
WIRELESS DOWNHOLE MONITORING OF FREE-FLOW WELLS
CLIENT
Australian O&G Operator
WELL TYPE
Coal Seam Gas – PCP Artificial Lift System
TECHNOLOGY SOLUTION
AD250 Wireless Downhole Gauge System
CHALLENGE
Three AD250 Wireless Downhole Gauge Systems were deployed in three vertical oil wells completed with tubing and anchors to provide early reservoir information to the operator.
The wireless downhole gauges were fixed to the tubing at 1332m, 1333m and 1332m on welded mounts. The downhole gauges were programmed to transmit data at 10-minute intervals during well completion operations to facilitate function checking, and thereafter to transmit on their pre-programmed data schedule.
OUTCOME
In all three deployments excellent signal strengths were received at surface and wellbore data was received reliably. The operator quoted:..." We performed a gradient survey on one of the wells as a comparison to the AD250 Wireless Downhole Gauge and there was pretty good agreement between the measurements." Analysis of the results suggests that the downhole gauges also could have communicated data to surface from depths of 2000m with the well flowing) and up to 2300m with the well shut-in.

SOLUTION
The operator quoted:
…'The early production data we saw earlier has been useful to us and alerted us to unexpected water influx much earlier than we would have otherwise seen it – the wireless downhole gauge showed water building up in the wellbore before it was noticed through our production testing. We will be installing artificial lift here sooner than anticipated as a result."
WELL COMPLETION INFORMATION
At surface the wellhead signal pickups were mounted on the top flange of the tubing spool as seen in the photograph below.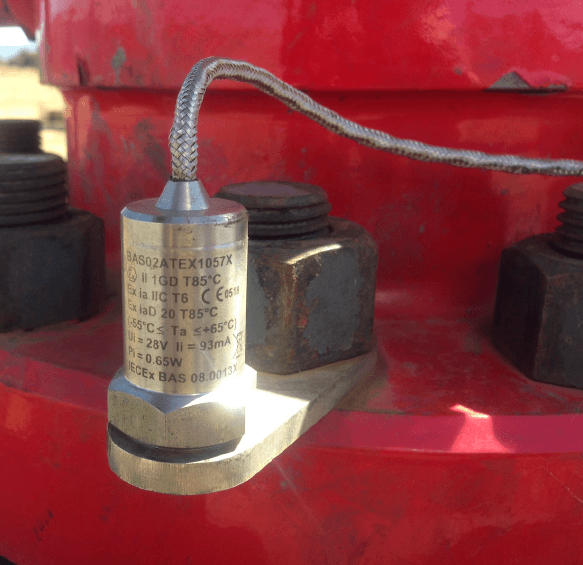 Downhole the AD250 Wireless PDHGs were mounted on the outside of the tubing on a welded mount ported to the inside of the tubing.