CASE STUDY 2 - AD250 WIRELESS
WIRELESS DOWNHOLE MONITORING - COAL SEAM GAS (CSG-2)
CLIENT
Australian O&G Operator
WELL TYPE
Coal Seam Gas – PCP Artificial Lift System
TECHNOLOGY SOLUTION
AD250 Wireless Downhole Gauge System
CHALLENGE
An AD250 Wireless Downhole Gauge with no repeater was installed at 970mMD in a PCP artificially lifted CSG well to provide real time data whilst the well was pumping.
OUTCOME
After being run in hole, data was received until the PCP Hydraulic Drive Head was commissioned. The noise produced by the drive system overcame the data signal and prevented recovery of real time P&T data from the wireless downhole gauge while the drive was working.
When a work over was performed on the well, the downhole gauge was retrieved and onboard data recovered. Having inspected the gauge data, it is clear that the downhole gauge operated faultlessly for the 262.5 day period of deployment recording data to downhole memory, and transmitting data to surface despite not being downloaded.
The AD250 Wireless Downhole Gauge was not switched off after being retrieved and left running for another 30 days until it was received by Acoustic Data for data download and firmware update. Total run time was 292.5 days.
| WELL | RUN TIME | ACOUSTIC PACKETS |
| --- | --- | --- |
| CSG-3 | 292.5 days | SENT 1367 |
SOLUTION
The data rate was set at 6-hourly data transmissions to ensure an operational life of approximately 6 years. The amount of energy remaining in the 2 C cell batteries fit well with the modeled and anticipated energy usage.
This deployment is a good example of how relatively low data rates can deliver operators excellent data for engineering analysis.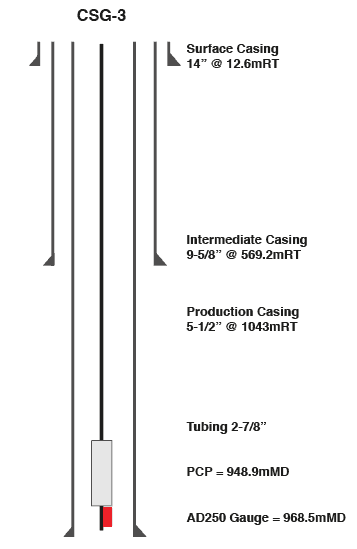 CSG-3 ON-BOARD WELLBORE DATA